Studio.
B Blok, in the center of the city, 5 minutes walk to Maslak metro is a studio servicing all types of photo & video shootings. Thera are two adjacent, connectable studios of 15m x 12m x 7,5m and 6m x 6m x 7,5m with U shaped infinity set. With 120 kW electric, practical catwalks the set up provides a comfortable medium. The 3m x 2,4m entrance allows automobile / small boat shootings. If preferred the unmanned studio setup allows extra hygienic & healthy opportunity.
Two connectable studios of 180 m2 & 36 m2. Their heights are 7,5m.
A Plato 15m x 12m.
B Plato 6m x 6m.
Additionally there is an open setup kitchen area for food related shootings, with full service (lights, camera, crew, food stylist, photography …). Meeting rooms are provided if requested.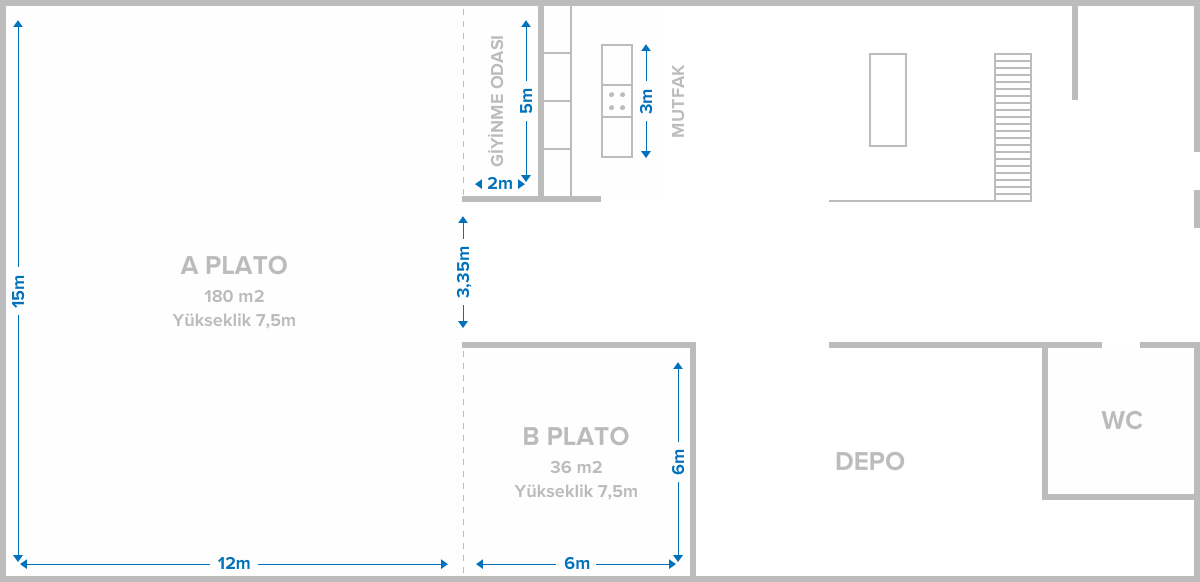 What is an Unmanned Studio?
It is a production method where the studio shooting conditions are created before shooting, the production and shooting take place with a minimum number of crew and no one other than the talent or talents will be present in the studio during the shooting.
Why Unmanned Studio?
The Covid 19 pandemic, throughout the world, threatening the health of people deadly caused film production in the world therefore in our country to stop in order to protect talents' and crews' health. Consumers gone under insulation. And their consumption habits changed.
While the brands try to earn their target audiences' loyalty at home with various content, due to current restrictions, they are limited with either table top projects or previously used content.
At this point "unmanned studio" is a production method that provides brand new contents production opportunity with giving the priority to the human health.
This is a production method that requires minimum number of crew, works remotely controlled camera, allows the talent always be alone in the studio. Sterilization and health controls provided at every stage of production will also protect the brand image.
How does Unmanned Studio Works?
P pre production meetings and presentations are online.
All departments work with one person if possible or minimum amount of people. Shooting day is held with minimum crew number (e.g. one electrician, one camera crew).
Casting is online.
The unmanned studio should be single and boutique in the area. Only one project is made in the building. Not any other set. No other set preparation is made in another studio.
Body heats of all crew are regularly measured.
Teams work in sequence with less contact with each other. Preparation of decor, light and shooting preparations are made in order. The environment is sterilized after each unit work. Ventilation is provided. The crew use equipment (eyeglass, mask, dress etc.) To protect themselves and the others.
A day before the shooting: the light and the technical equipment is ready to work, the rehearsal are made, everything is ready to shoot. The aim is to be organized in order to keep the talent in the studio as short as possible. Only the talent enters the sterilized studio.
Remote controlled camera and dolly used in shooting.
No open buffet will be served. Food will be organized as packages to be heated in the studio.
Online connection is provided to customer and agency when required.